New support of the SabahRhino Project: Cuddly Rhinos made by LOUyLOU!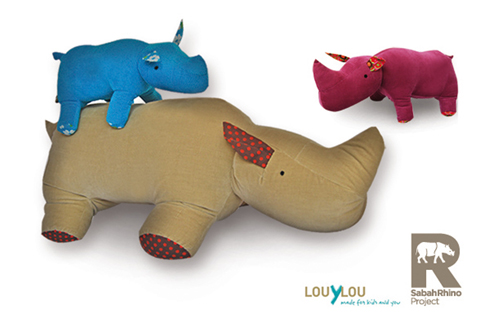 SabahRhino musical cuddly toys & giant cuddly toys from LOUyLOU
The new gift ideas from LOUyLOU make bringing joy to friends and family easy while simultaneously helping to save the lives of the world's smallest rhinos.
LOUyLOU's artistically skilled and socially conscious mother has come up with six cute cuddly rhinos: the singing rhinos Emma, Pippin, Maxi and Ferdinand, and the giant cuddly toys Herbert and Zilli.
These cuddly play companions for kids are now available in the online shop at www.louylou.de! For every cuddly rhino purchased 5 – 10 Euros will be donated to the SabahRhino Project.
Rhiact now - support the SabahRhino project! And become a Facebook Fan of LOUyLOU and the cuddly rhinos!
International Painting Contest for Kids up to Sixteen Years Old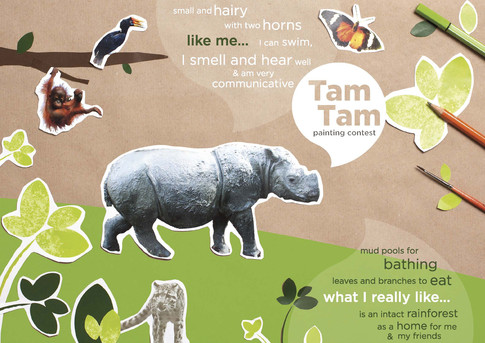 Paint your new friend TamTam - the smallest and most lovable rhino in the world
Kids from all over the world are called upon to paint a picture of their new friend TamTam. TamTam is not only the world's smallest rhino, as a Sabah rhino Tam Tam can also swim and even sing. He lives in a protected wildlife reserve in Sabah on the Malasian Island of Borneo. His home, the lowland rainforest, and the animals and plants living there are under threat.
Scientists and many local helpers are seeing to it that TamTam and his friends will have a future.
They need your help to make this possible: show everyone that you would like tiny TamTam to have a large family and a protected home in the rainforest!
Send us your pictures! Every month we will select three paintings from all the submissions. The winning designs will be sent as postcards all over the world to drum up more supporters for the project. Each winner will receive his or her own winning design as a postcard set. Please don't forget to include your name, age, address, telephone number, email address, and a message to TamTam!
The SabahRhino Project Painting Contest supports the project of the same name and is designed to teach kids about the protection of species and the environment. The painting contest supports the efforts of the Leibniz Institute for Zoo and Wildlife Research, the Leipzig Zoo and many other organizations dedicated to saving the last rhinoceros in Malaysia.
dan pearlman is responsible for project communications as strategic creative agency and project partner. The SabahRhino Project and the TamTam Painting Contest are non-for-profit ventures.
More information is available here: www.facebook.com/sabahrhinoproject
SabahRhino Project Painting Contest
dan pearlman
Kiefholzstrasse 1
12435 Berlin | Germany
or via email to: TamTam@sabahrhinoproject.com
SabahRhino Project supported by the German Bundesministerium für Bildung und Forschung
The SabahRhino Project gets support from the German Federal Ministry of Education and Research, the Bundesministerium für Bildung und Forschung. All project partners are delighted to recieve substantial project fundings and are certain that the project will highly benefit from the support of the German Ministry.
Pictures of Events, where our Sabah Rhino Project was present
Nicole Srock.Stanley introducing the SabahRhino project at Berlin's "smart urban stage"
A big THANK YOU...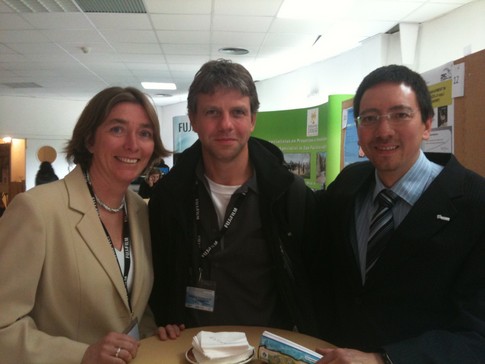 ...goes out to our project supporters from the Leibniz Institute for Zoo and Wildlife Research in Berlin, Germany.
The picture shows Petra Kretzschmar, Thomas Hildebrandt and Steven Seet, attending the Madrid Conference.
International Conference on Diseases and Wildlife Animals 2010
from 12th to 15th of May.

The Conference will be held at ZOO AQUARIUM of Madrid, Spain.

AIM

To foster an exchange of ideas among international specialists from many disciplines working with free-ranging and captive animals. To achieve this aim an impressive list of plenary speakers and workshop organisers is secured.

Contact: 2010(at)zoovet-conference.org Berlin, Germany.

We are expecting a stimulating programme with many interesting scientific presentations supplemented by an entertaining, yet informative, evening programme. We are looking forward to welcoming you at the conference!

Leibniz Institute for Zoo and Wildlife Research (IZW)
PoBox 601103
D-10252 Berlin
Germany
fon: +49-30-5168108
fax: +49-30-5126104

http://www.zoovet-conference.org/download/Zoovet_conference_2010.pdf




New Logo & Corporate Design for the SabahRhino
with special thanks to: Jork Andre Dieter and Peter Langpeter.